Intervention of Shaheen During COVID-19
Immediately after the outbreak of the pandemic COVID-19, we made an effort, through our field investigators, to understand the impediments of the community in accessing adequate preventive measures and safeguarding themselves from the virus attack. Our key response activities are enumerated below.
Awareness program on the Corona Virus pandemic.

Our staff visited six schools in the Old City and placed banners in the public spaces by flagging of various measures that are to be practiced to keep oneself safe from the infection
Pamphlets were also distributed to individuals to ensure that the awareness campaign reach out to every household in the region

Ration (comprising of rice, dal and pulses) and hygiene kits (comprising of sanitary napkin, Dettol soap and sanitizer) were distributed.
Direct beneficiary were 800 Single women and 600 adolescent girls
Total 3000 families got benefited from April 2020 to September 2020
Reaching out to alleviate mental trauma

The innovative solution the organisation came up with was putting chits in the food bags with their helpline numbers so the women could contact them whenever they required and had the opportunity to do so.
Shaheen did survey of 100 adolescent girls to know the impact of pandemic Lockdown on their life.
Shaheen also did survey of 50 young women and girls to know the impact of COVID -19 on their life.

Reaching out to the red zones

Shaheen also did volunteering with the police and accompanied them for daily monitoring of the red zones.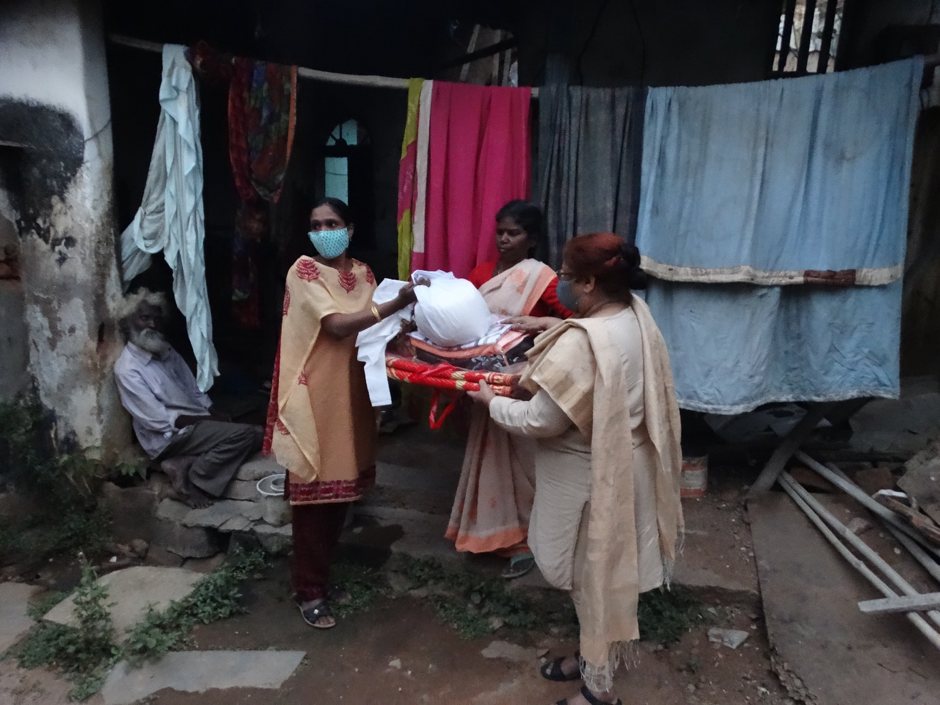 Shaheen's Flood Response Activities from October 2020 to April 2021
Shaheen did focus group discussions with community women to know about the issues they were facing due to the floods and what kind of relief they needed. Women said that they needed ration, blankets, utensils and medicines etc.
 Shaheen did home visits and provided medical aid to needy people by taking them to the hospitals.
Shaheen distributed

1 tiffin box, 2 glasses, 2 plates, and 2 spoons to 100 adolescent girls.
blankets, mats, towels, bedsheets, plates and ration kits and hygiene kits to 500 young women and girls.
handmade sanitary pads to 150 young girls.

Shaheen did 5000 household surveys in flood affected areas, namely, Aman Nagar, Nasheman Nagar, Valmiki Nagar, Siddique Nagar, Rehmaniya Madarsa, Shivaji Nagar and distributed ration kits to 5000 families over a span of 5 months. It included 10 kg of rice, 10kg wheat, 1kg toor dal, 1 kg masoor dal, 1 kg moong dal , 500 gms groundnuts, 100 gms red chilli powder, 100 gms turmeric powder, 1 kg salt , 2 kg refined oil and 500 gms dates.